Dear Neighbors,
For over one year my office has been working to ensure the Magnolia Bridge Planning Study is coordinated with the many projects planned and envisioned in Interbay.
Last year we organized the Interbay Regional Transportation Corridor workgroup including State, County, Sound Transit, Port elected officials and staff to seek a State funding package. Promoting a project of this size as a coordinated regional package will make our request for funding much more competitive.
The Magnolia Bridge Planning Study is one of the projects funded by the latest transportation levy. The Seattle Department of Transportation (SDOT) released their study results today, and I would like to share these results with you.
Fulfilling a Levy to Move Seattle commitment, in 2017, SDOT launched this planning study to identify route alternatives for the 90-year-old Magnolia Bridge. The goals are to meet the needs of the community, update the bridge replacement cost estimate, and create an emergency transportation plan for unexpected closures. The final study, available on the project's web page, provides a weighted comparison of four identified alternatives (shown below) along with some general conclusions.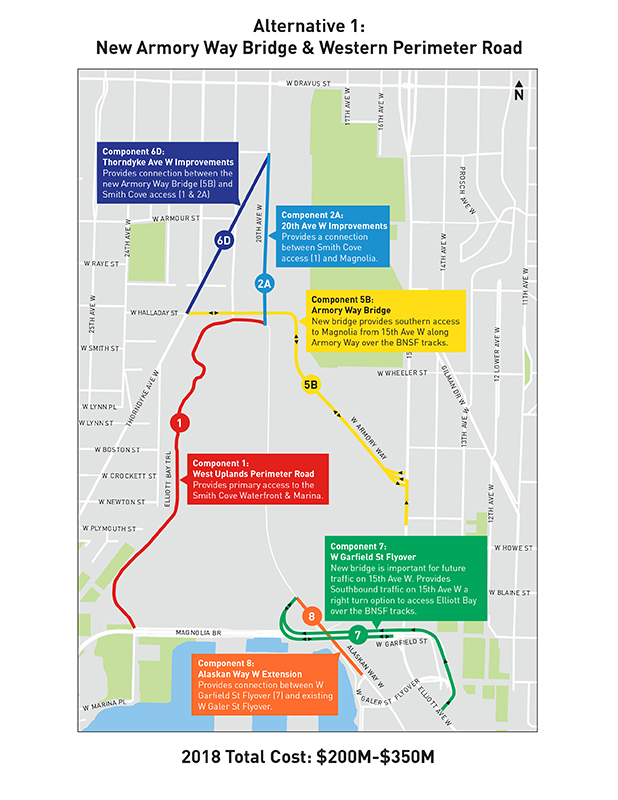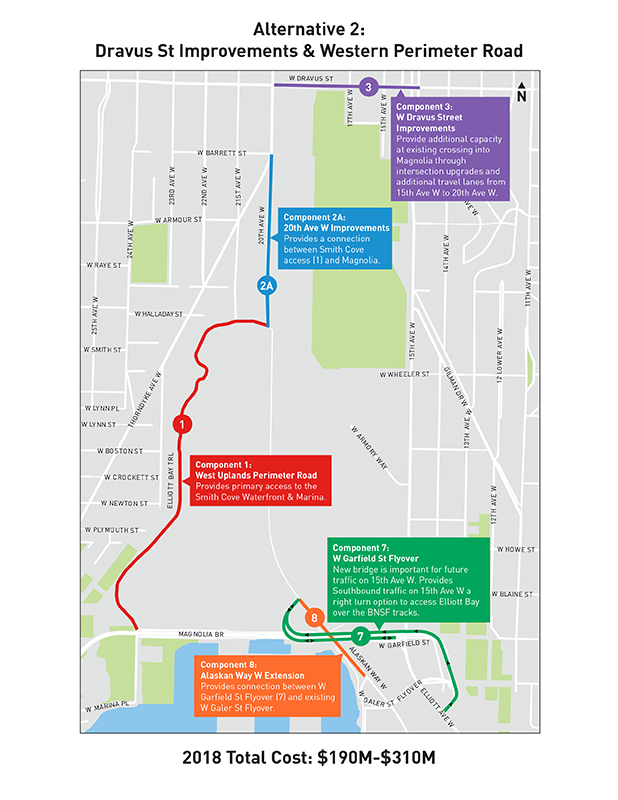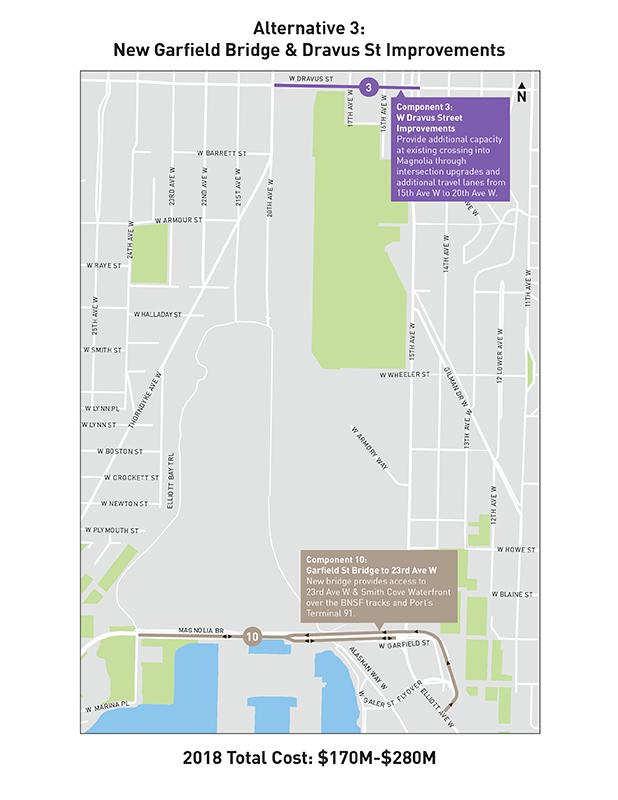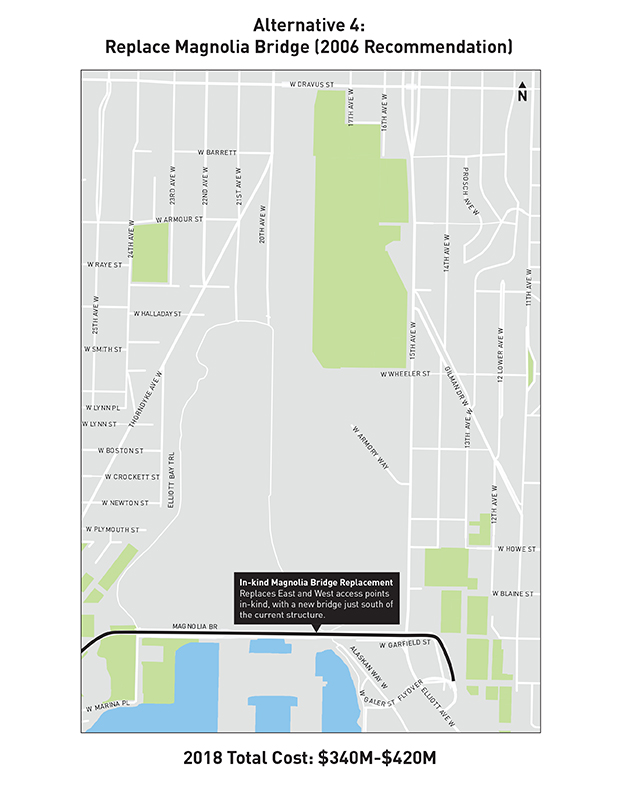 Study Conclusions
This analysis ranked Alternative 1 (Armory Way Bridge) and Alternative IV (In-Kind Replacement) best in most scenarios. The weighting between the two was very close.
Alternative 1 (Armory Way Bridge) typically performed better than In-Kind Replacement in terms of cost, access to the Smith Cove Waterfront, and Construction Duration and Impacts.
Alternative IV (In-Kind Replacement) typically performed better than Alternative 1 (Armory Way Bridge) in terms of mobility and access, environmental impacts, and community support.
Alternative 1 (Armory Way Bridge) scored lowest in terms of environmental impacts and community support.
In-Kind Replacement has the most community support yet scored lowest in terms of cost and construction duration and impacts.
The Magnolia community has made clear that replacing the current Magnolia Bridge with a similar bridge is the local favorite, yet the In-Kind Replacement will cost more than any option. Since no money is allocated to replace the bridge, any alternative will require many funding approaches, including the possibility of community investments such as the Local Improvement District (LID) we adopted for the Waterfront. An LID would not be new for Magnolia. Approximately half of the costs of the original bridge was paid for by Magnolia businesses and residents nearly a century ago.
Funding Reality
With cost estimates spanning from $190M to $420M, bridge replacement and alternative options considered in this study far exceed available Seattle Department of Transportation funds without significant outside investment from our State or Federal partners. To underscore the point, the City of Seattle has no designated source of funds to replace the bridge at this point.
So, what's next?
First, ongoing maintenance and inspections of the Magnolia Bridge continue in coordination with the Port of Seattle. SDOT engineers and experts perform regular maintenance, frequent inspections and 24/hour monitoring to ensure safe use of the Magnolia Bridge. That will continue.
Second, the Levy to Move Seattle funded a ten-bridge study to help the City assess and manage roadway structure maintenance needs and maximize future investments. The Magnolia Planning Study was the first of the ten assessments to be completed. The studies are a part of SDOT's effort to better understand the size of Seattle's maintenance backlog, which require long-term attention. SDOT will be launching the Ballard Bridge Planning Study later this spring.
Lastly, the City, County, State, Port, and Sound Transit officials will continue to work with the community and to examine creative and joint funding opportunities for the Interbay Corridor and bridges. SDOT will also be launching the Ballard-Interbay Regional Transportation system study pending confirmation of state funding. I want to thank Rep. Gael Tarleton who served as Chair of the House Finance Committee this year as well as Rep. Noel Frame and Sen. Reuven Carlyle for putting money in the State budget to begin the process to fund our Interbay needs.
For additional details about how the study was conducted and how community input was considered, see SDOT's blog post and visit the project web page.
I will keep you updated on our work with the Interbay Regional Corridor workgroup this summer as our work continues. Happy Memorial Day weekend; I hope you have someone special to remember and are enjoying this beautiful weather!
All the best,
–Sally

Email: Sally.Bagshaw@seattle.gov
Phone: (206) 684-8801
Online: Council Website